I love Halloween.  I was a theater major in college and a drama teacher for years before having my kids, and I have always loved having an excuse to dress up for pretty much any occasion.  Halloween is about as close as you can get in real life to being in a play, and I figure I should take each opportunity I can to dress up with my children while they're still young enough to enjoy it without being horrifically embarrassed by their dorky mother.
I'll add a post soon about our Halloween costumes from previous years, but I wanted to get this one published as quickly as I could in case it can help someone else who might be trying to DIY some costumes this year.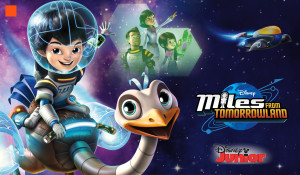 All three of my kids are HUGE fans of the show Miles From Tomorrowland on Disney Junior.  It's really a great show – it teaches them a decent amount about space and science, and the show has a lot of excellent roles for female characters.  Miles's mother Phoebe is the captain of the ship, and his sister Loretta is just as intelligent and adventurous as her brother.  I know there are going to be a LOT of preschool-aged boys out there this year who are going to be dressing as Miles for Halloween, and G will definitely be one of the crowd.  But the twins are also huge fans, and the Tomorrowland characters offer a great opportunity for a family costume.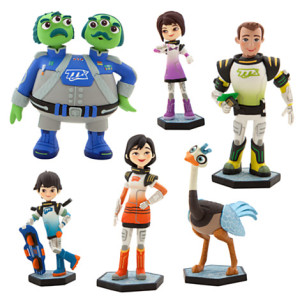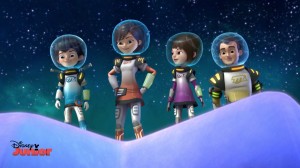 There's one major problem.  Despite Disney's obvious efforts to include strong female characters on the show, for reasons I can't explain, they ONLY decided to release a Miles costume this year.  No Loretta.  Why, Disney?!  What were you thinking?  I fully expected to have to make a costume for myself and a minimal version of one for my husband (who doesn't share my love of crafty costuming, sigh), and I know it would have been a lot to ask for them to mass-produce a MERC costume (he's a robot ostrich, and THAT is going to be my real DIY nightmare this year), but it bums me out that there are probably a whole lot of little girls out there who want to dress up as Loretta and can't.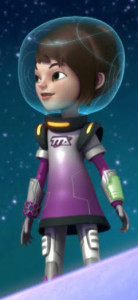 So…I created some designs to print up through Cowcow.com, and I wanted to order one item first to try it out and see how it worked.  Unfortunately, Cowcow doesn't offer children's sizes, so I tried out a tank top in an adult XS, since the reviews indicated that it runs very small, and I assumed there would be plenty of alterations that would need to be made.
The tank top finally showed up in the mail today, and this is how it fits on a toddler who wears a size 4T: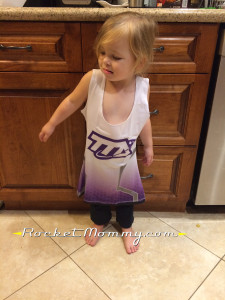 So obviously it's going to need some work, haha.  I'll post an update once I've altered it and made the black shoulder harness to go with it.  Once I received this today, I went ahead and pulled the trigger on the rest of the order that I put together, which had the following items:
Phoebe Callisto's dress (this will need some black trim when it arrives):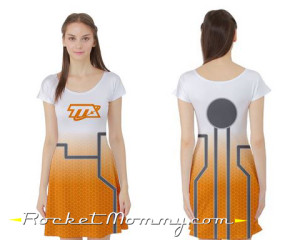 Leggings to go with Phoebe's dress: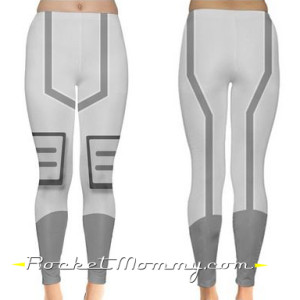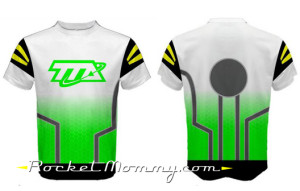 Cropped leggings for Loretta (these will need to be altered down to fit a toddler too):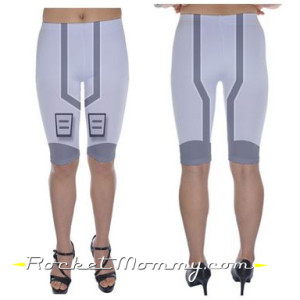 Now, here's the cool thing about Cowcow – it let me set up a shop where other people can purchase the designs I made for our family, and everything they offer comes in sizes XS-3XL.  So if you're in the same boat as I am – if you've got a little girl who wants to be Loretta, or you're trying to put together costumes for the whole family, and you've got some crafty sewing skills, you can pick up one of these shirts (or any of my other items) and make it work.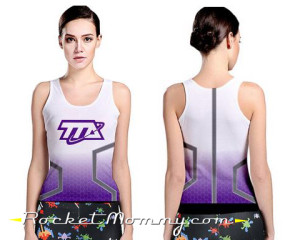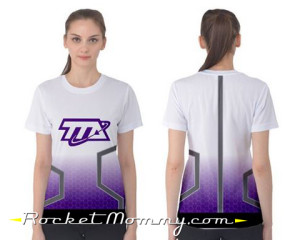 I want to just say this as a caveat – I've only personally received the tank top so far, and I can't speak to the quality of the finished product of any of the other designs until I get them in the mail.  I ordered the tank on September 5th and it arrived on September 26th – the company is based in Hong Kong, and the shipping takes an eternity – so if you're interested in trying these for your Halloween costume, you're going to have to take a leap of faith on it just like me.  I hope it works out well for all of us!
There are always coupons floating around out there for Cowcow.com, and I encourage you to use any you can find that work!  In fact, right now until October 12, 2015, you can get 40% off and free shipping on the tank top or the leggings if you use the code "40COWOFF" at checkout, and there's a 35% off code for the entire site (SALE35OFF) that expires on September 30th, 2015.  So hurry and order if you need it, and hopefully you'll have it in time for Halloween!