Well, hello there! It's September 1st, which is an unofficial new holiday in our house. This is the day that my children are allowed to start talking about plans for Halloween! G has been trying to toss costume ideas at me for months, and while part of me would love to have some extra time for any DIY craziness, I also don't want to risk them changing their minds a billion times if they pick something too early.
But! Here we are, the dollar stores are stocked up with cobwebs and tombstones, Costco's sporting a rack of superhero and princess outfits, it's open season on Halloween, and I'm ready to go! And to celebrate, I figured it might be a good time to collect all of my favorite Halloween memories and list them for those of you who might want a few fun family costume ideas.
2013
Let's start with the year that we had the twins. I put together a completely DIY set of Star Wars costumes, with the six-month-olds as Luke and Leia, and a Queen Amidala getup for myself. G was initially going to be Yoda, but, well, he was two years old and had a hissy fit every time I tried to put the hat on him, so I scrapped it and made him Han Solo instead.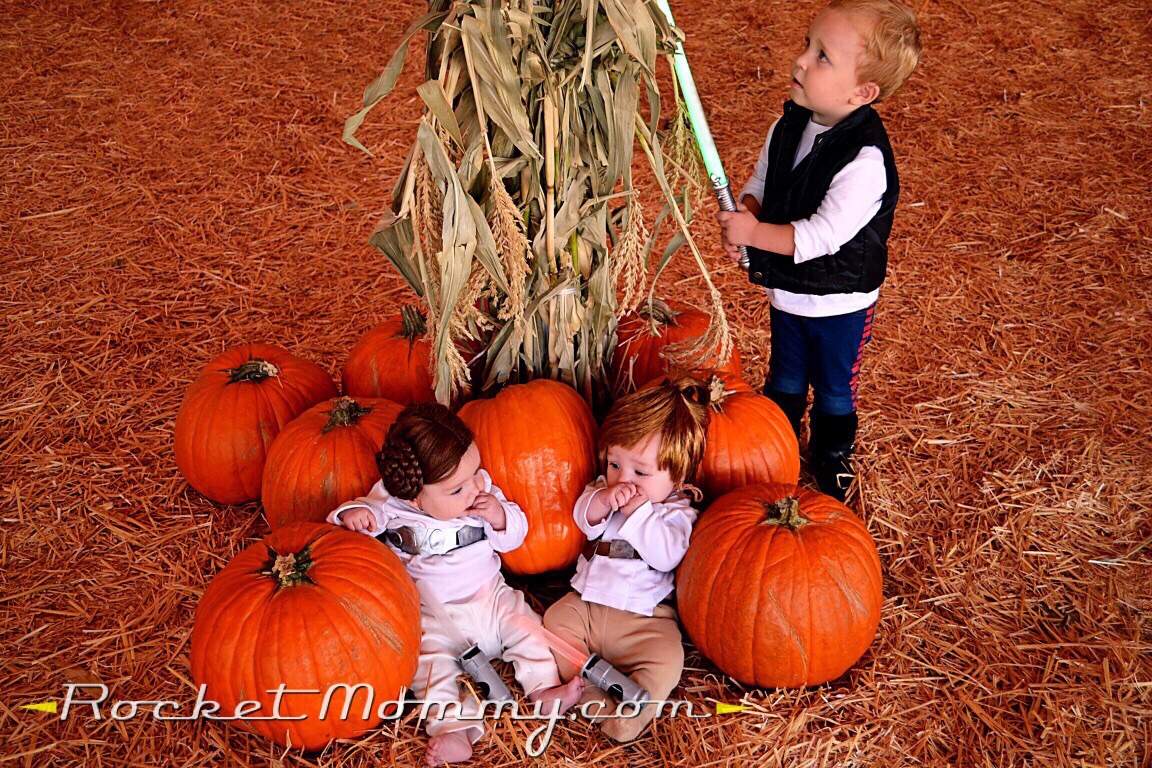 I hand-made that Leia wig out of hair extensions from the dollar store, and the Luke wig was a cheap "rocker" wig that I sewed a little to try and shrink it down for an infant head. Yes, I made wigs for babies. Yes, it's insane. INSANELY ADORABLE!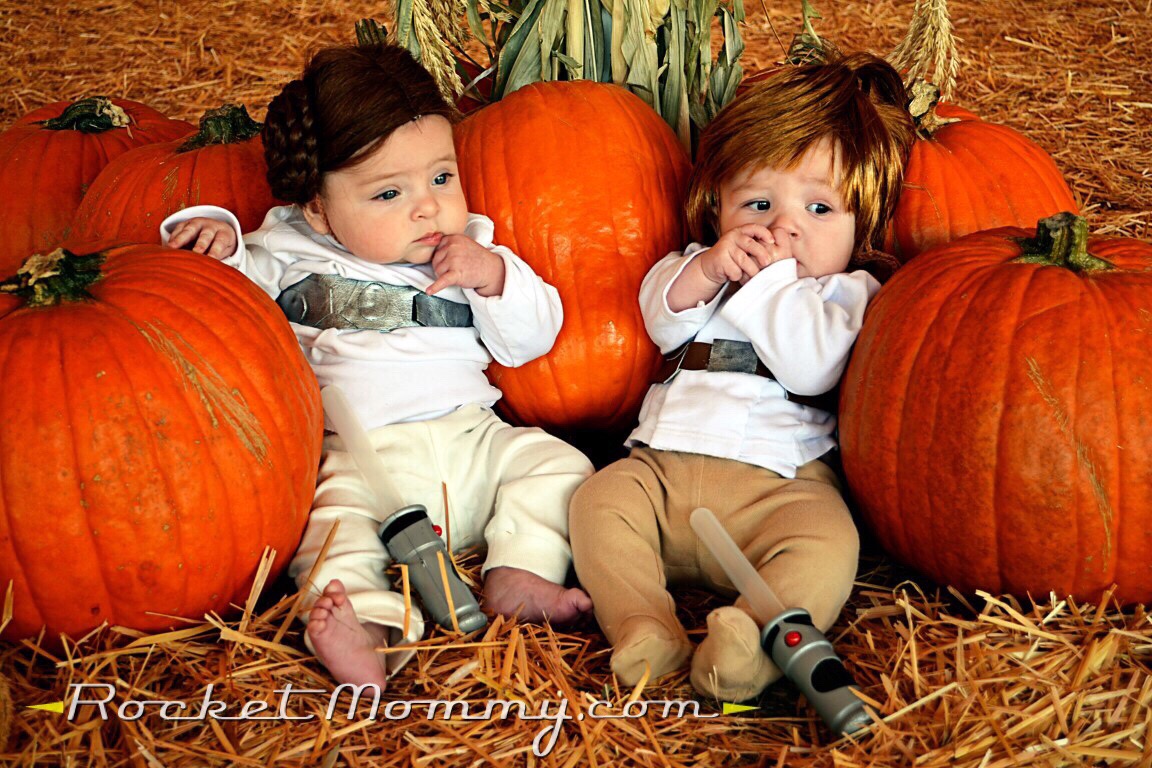 This is unfortunately the only picture I have of the four of us together. Obviously G was in the middle of yet another two-year-old fit, and I was gritting my teeth SO hard in this picture trying to keep him from throwing himself on the ground. We never even made it out for trick or treating that year, sadly.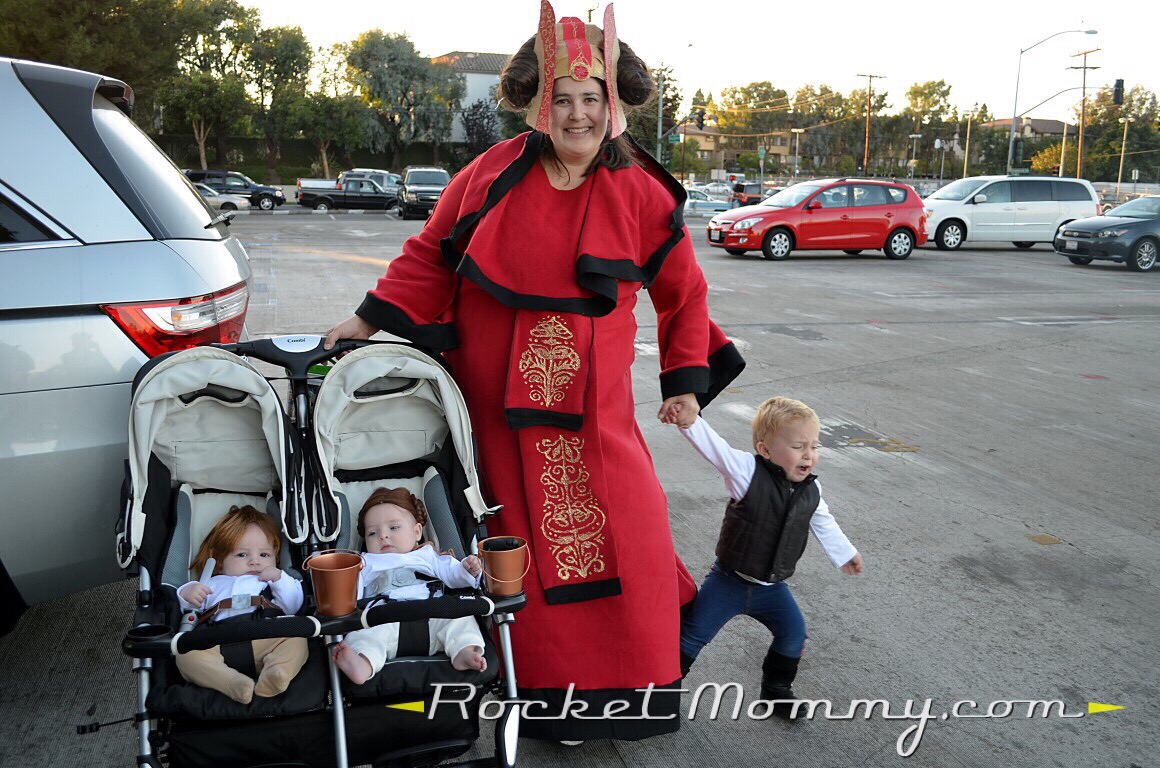 But check out my fancy costume! I painted all of the embellishments on my gown and headdress with acrylic paint and then traced over them again with gold glitter glue.
2014
In 2014, G decided he wanted to be Mickey Mouse. I thought briefly about making all of the Mickey Mouse Clubhouse costumes, but the Disney Store costumes were pretty adorable and reasonably priced, so I went with the store-bought Mickey and Donald, and I created a Minnie costume from parts of a secondhand Mickey and a dance dress I got off of Zulily. It took minimal sewing (just a bow and some eyelashes) and was super cute!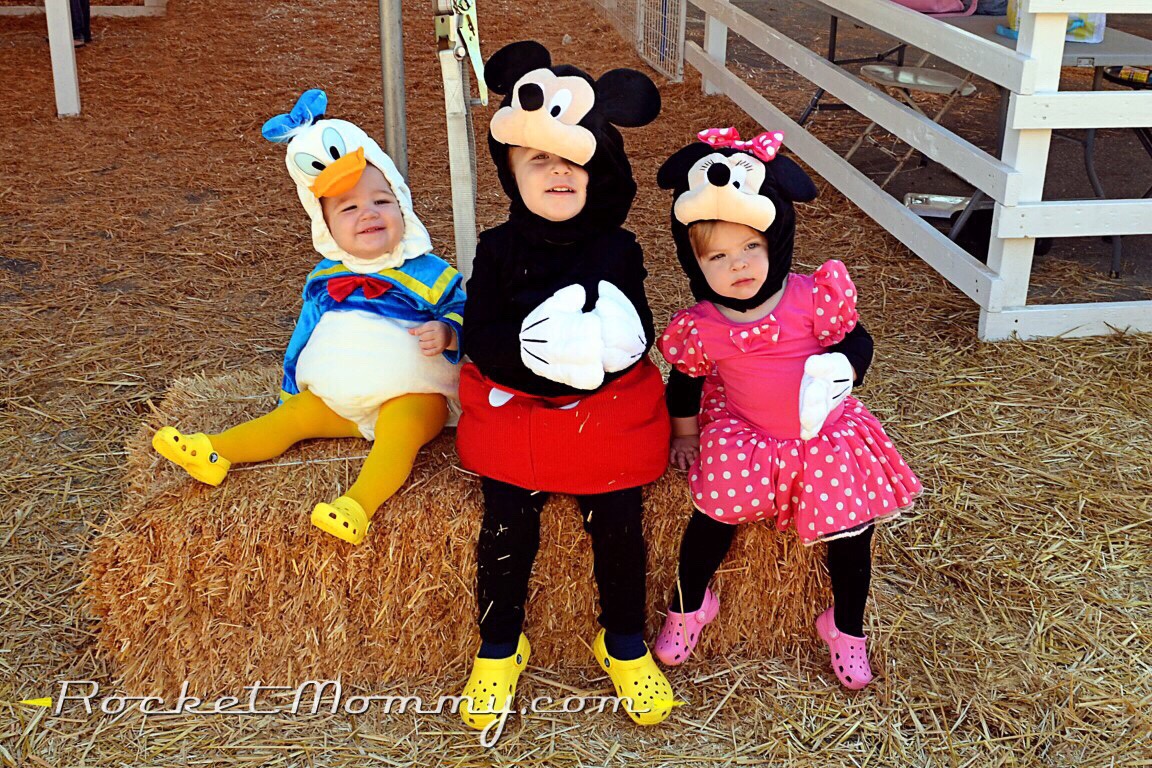 These poor kids wore those yellow Crocs for MONTHS afterwards, haha.
Little g was the most adorable Donald Duck ever. His little toddler waddle combined with that plush duck butt was just too cute for words.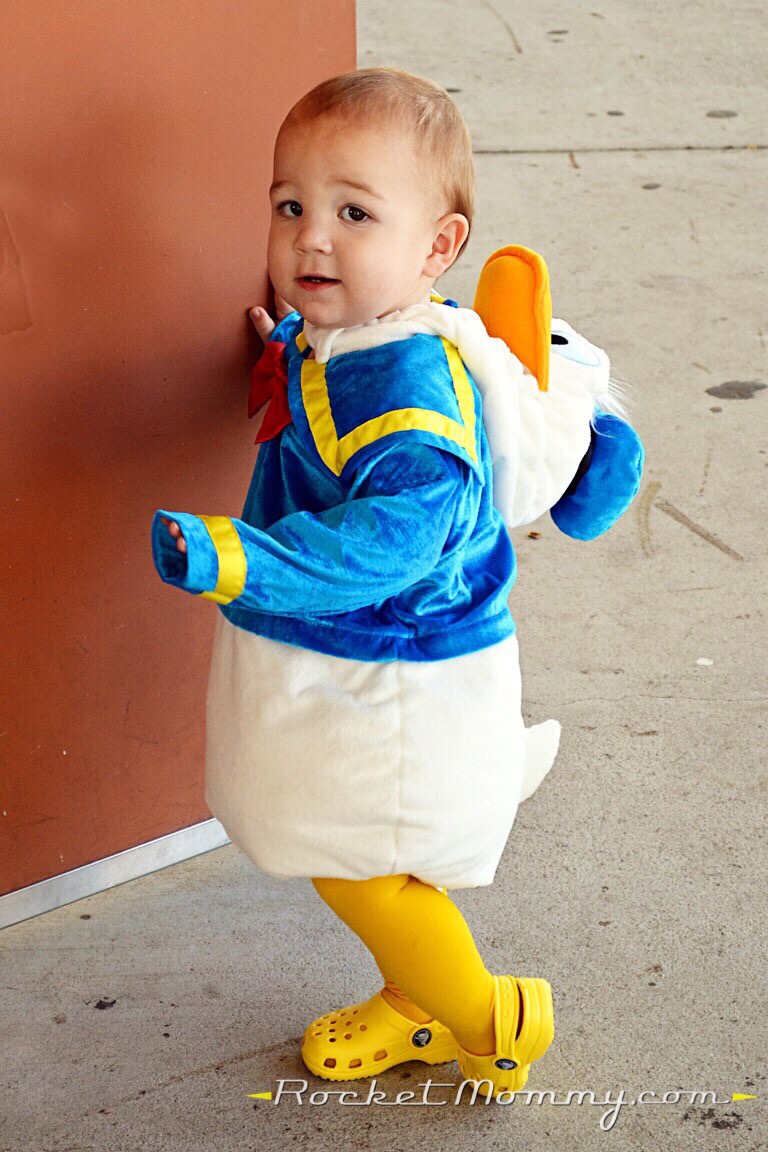 But the crowning glory was my amazing Daisy Duck costume that I found on Ebay!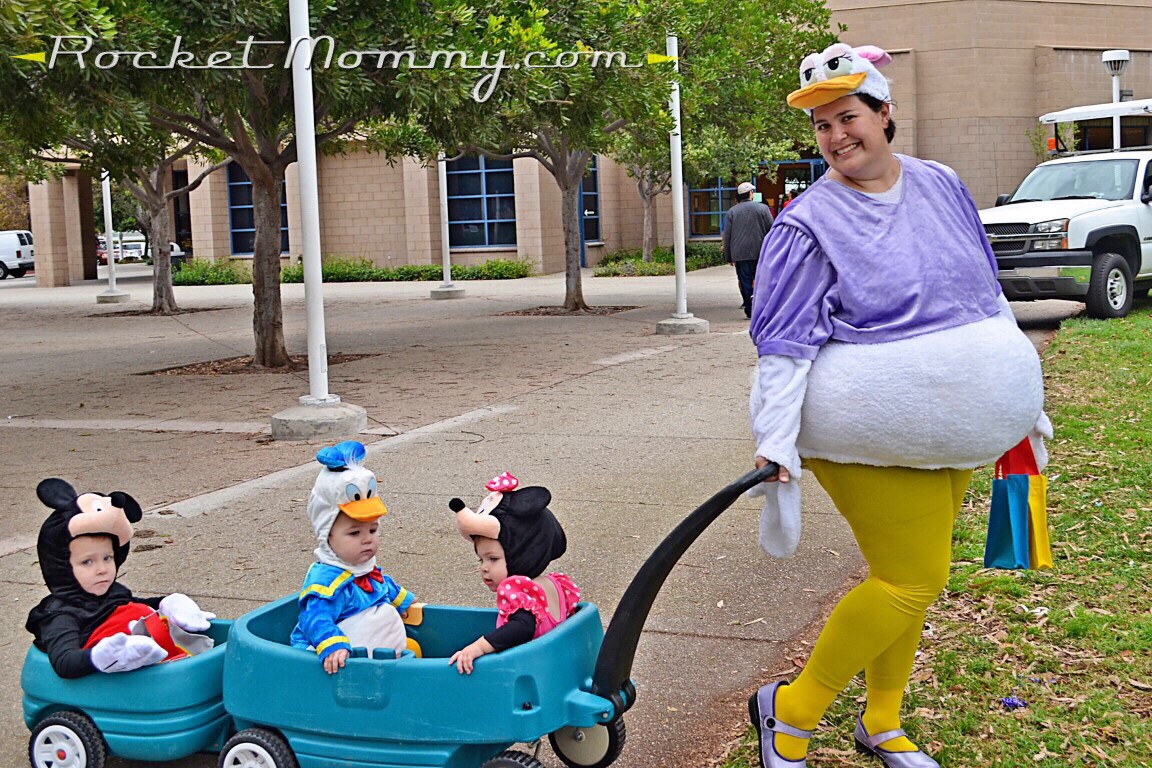 Yes, I went out in public like that. Multiple times, even!
2015
Last year we went with the very DIY-heavy Miles From Tomorrowland. If you've been following this blog from the beginning, you saw a lot of the process that I went through to put these costumes together.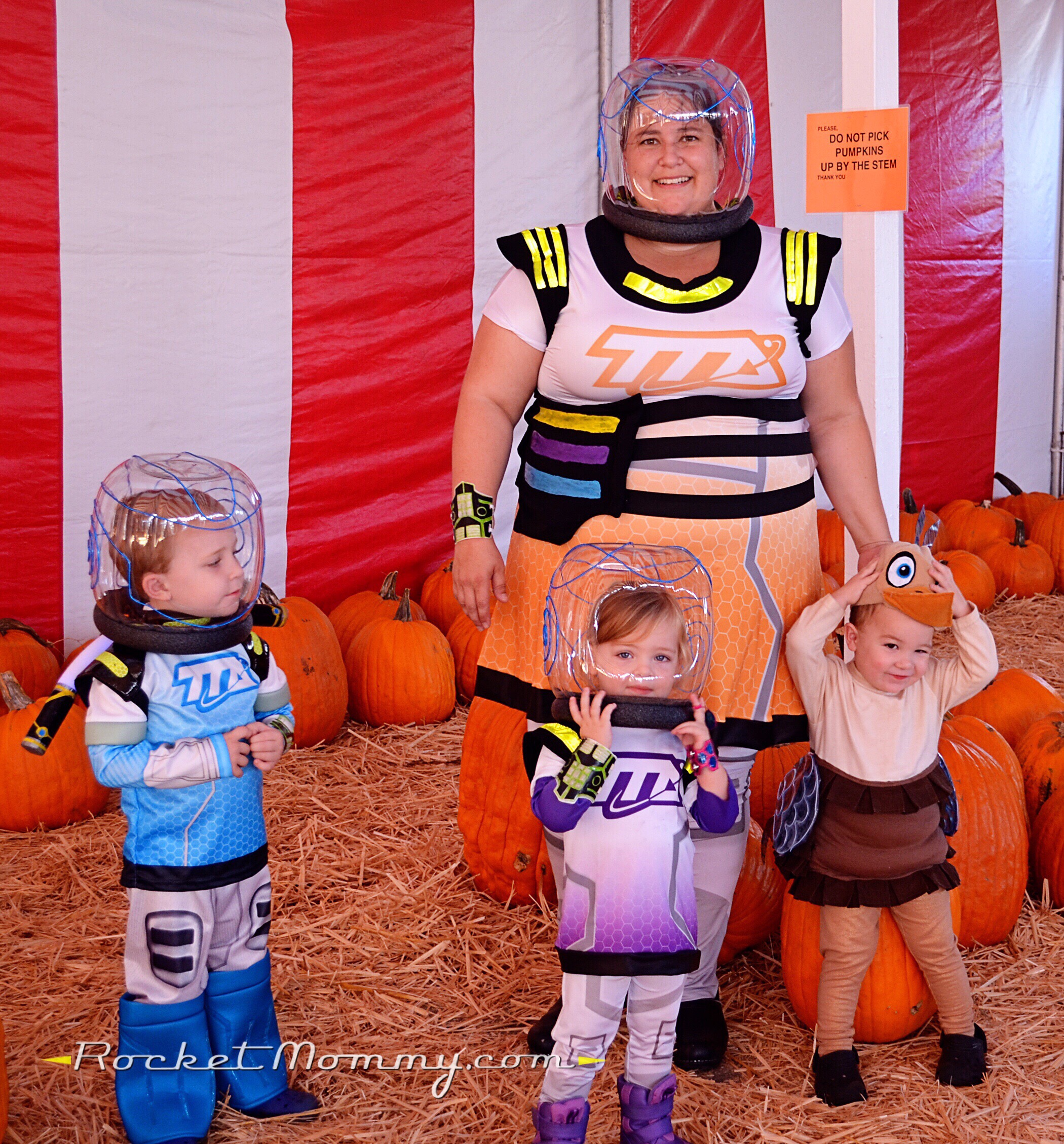 I bought G's Miles costume from the Disney Store, but since they didn't offer any of the other characters for sale, I created the elements for Loretta, Phoebe, and Leo Callisto and listed them on my store at CowCow in case anyone else needed them. Since then, I've actually been able to add child-sized T-shirts (when I first ordered, they didn't carry them), so all of the hassle I went through trying to turn an adult tank top into a toddler dress isn't necessary anymore. So if anyone needs a Loretta costume to go with Miles, grab it now because their shipping and processing is very slow.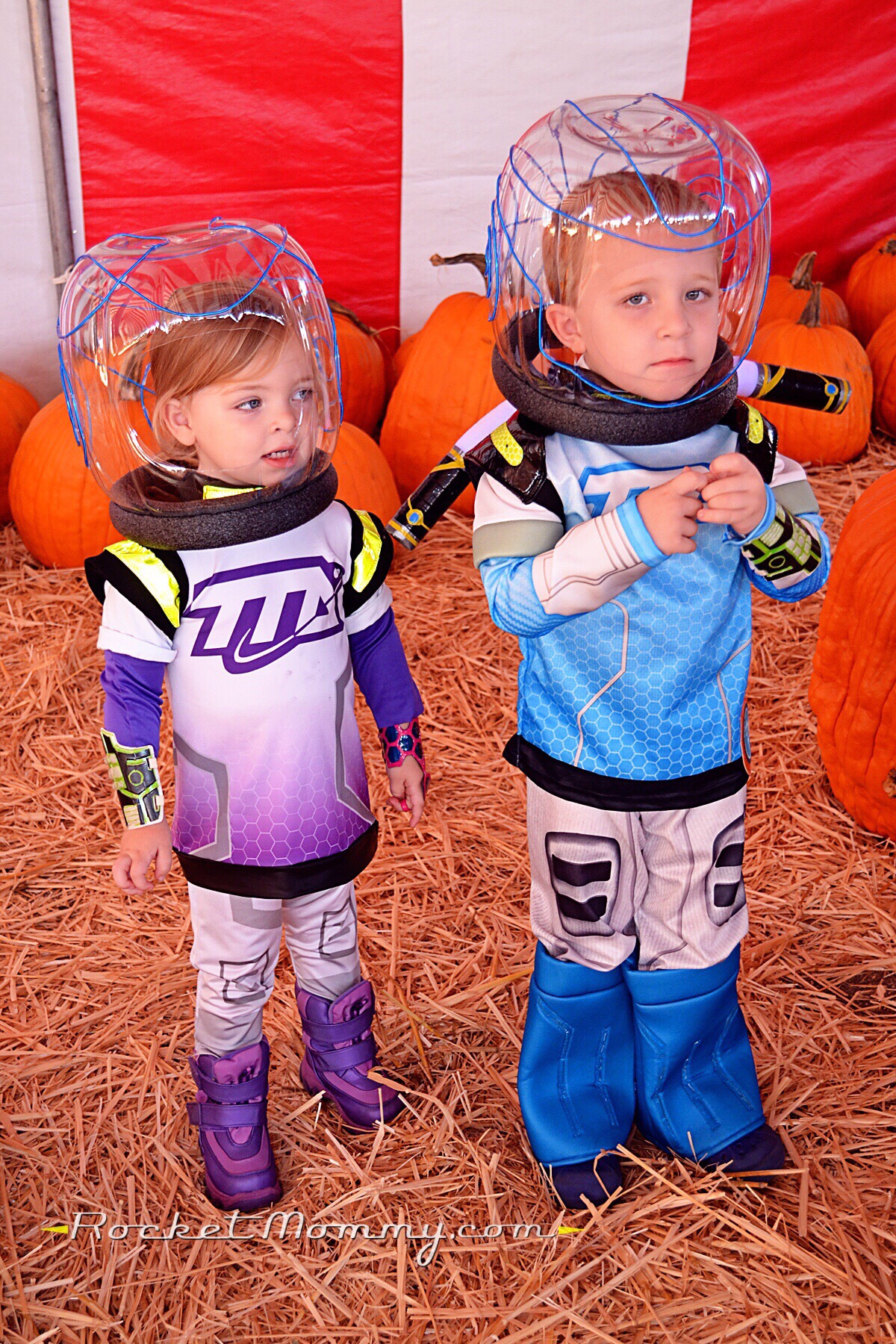 It's hard to tell in this picture, but the helmets light up!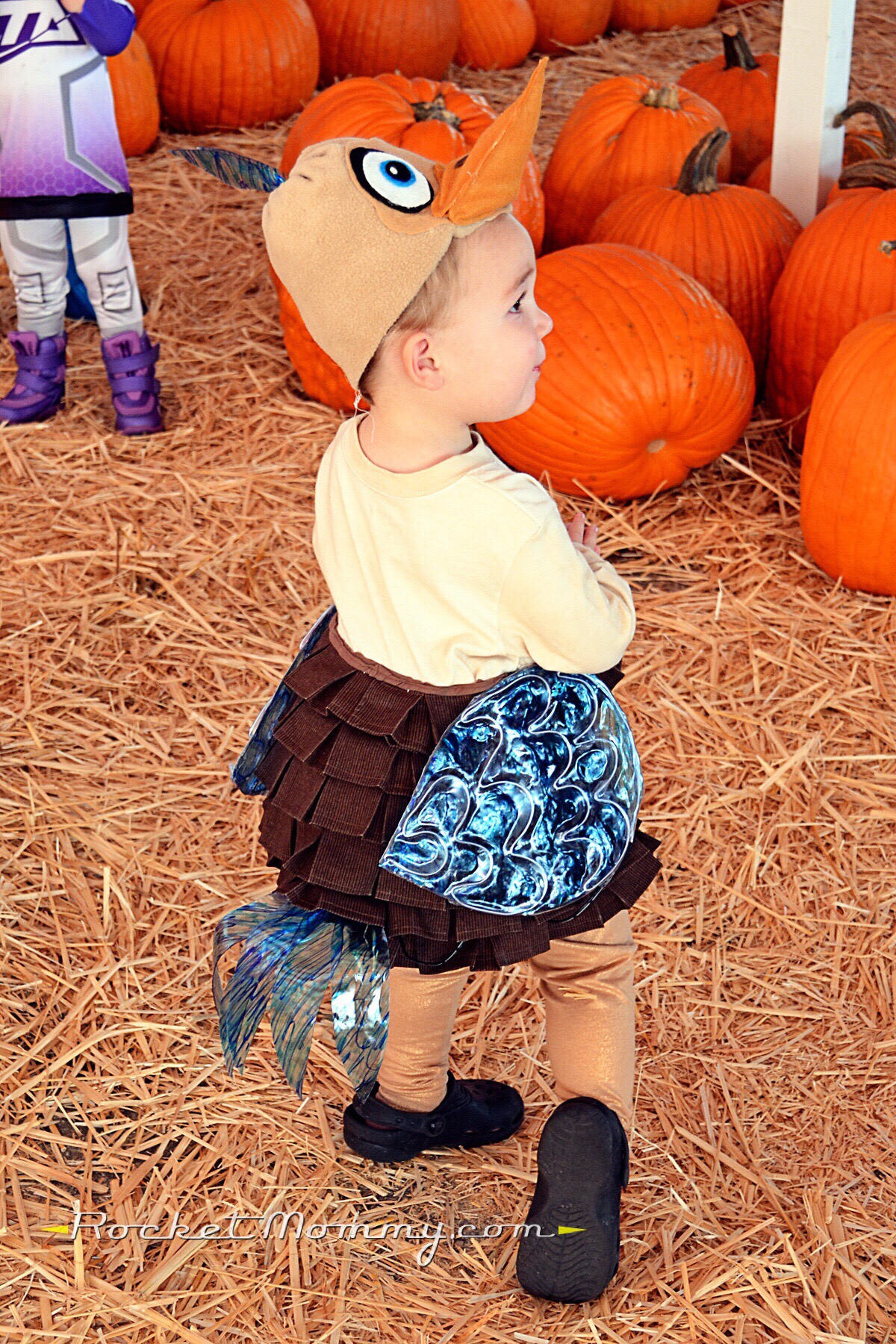 MERC was a real labor of love – that entire costume was made by hand, including all of that pleated fabric on the tail, and his wings are detachable and light up as well.
If you haven't seen the whole process I went through to create these, here are a few posts to check out!
Miles From Tomorrowland DIY Costumes, Part 1
Miles From Tomorrowland DIY Bracelex
Miles From Tomorrowland DIY Laserang
Miles From Tomorrowland DIY Questcom
DIY Space Helmet (with Miles From Tomorrowland light-up option)
Miles From Tomorrowland Family Costumes – The Finished Product
What will 2016 bring for the Rocket family? Hopefully I'll find out today! Stay tuned!