I knew it was bound to happen; my thoroughly Miles From Tomorrowland-obsessed crew has found a new show to focus all of their energy on. PJ Masks! I'm not gonna lie, I was just slightly annoyed that they chose to make this shift AFTER Halloween, because these costumes would be a thousand times easier to DIY than all of our Miles craziness.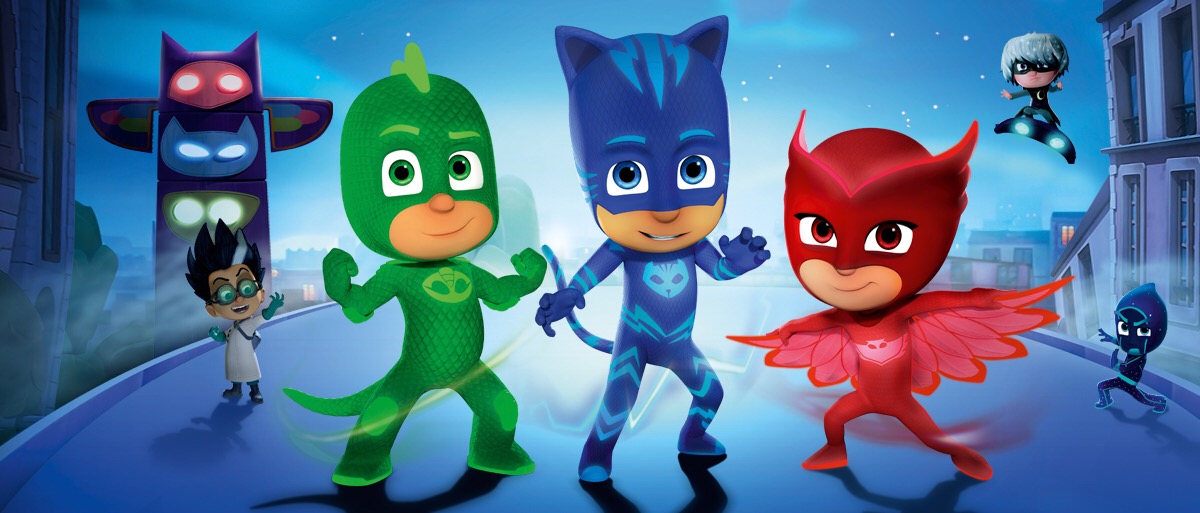 Anyhow, the kids run around all day now pretending to be PJ Masks. And it's kind of perfect because one of them (Gekko) has a green costume, which is G's favorite color, and the three stars of the show are two boys and a girl. Except that little g's favorite color is red, so he wants to be Owlette, and C loves cats, so she wants to be Catboy. Whatever, as long as they're having fun, right?
So lately G has been bugging me about making him a robot costume and a PJ Masks costume, and I've been redirecting that nonsense because I'm just a wee bit burnt out on the costuming for the moment and there aren't any costume parties on the horizon or anything. But today, since we had to cancel a playdate because g was a little under the weather and everyone was bored at home, when he asked me again about a robot costume, I said "You know what? YES. Yes, we can make you a robot costume. We can make you ALL some robot costumes. Now get in the car; we're going to Dollar Tree."
It so happens that I'd spent most of the weekend browsing through the brilliant archives of Filth Wizardry's blog after falling down a Pinterest rabbit hole, and among the zillion amazing ideas I'd seen on there was her post on making robot costumes out of gift bags. Perfect, right? I just needed some gift bags, and stickers, and other stuff to make robot buttons, and maybe some hats, and stuff to glue to the hats, and maybe I can make this light up, and ooooooh is that holographic duct tape? and, well, you get the picture. Or if you don't…well, here's the picture. Haha.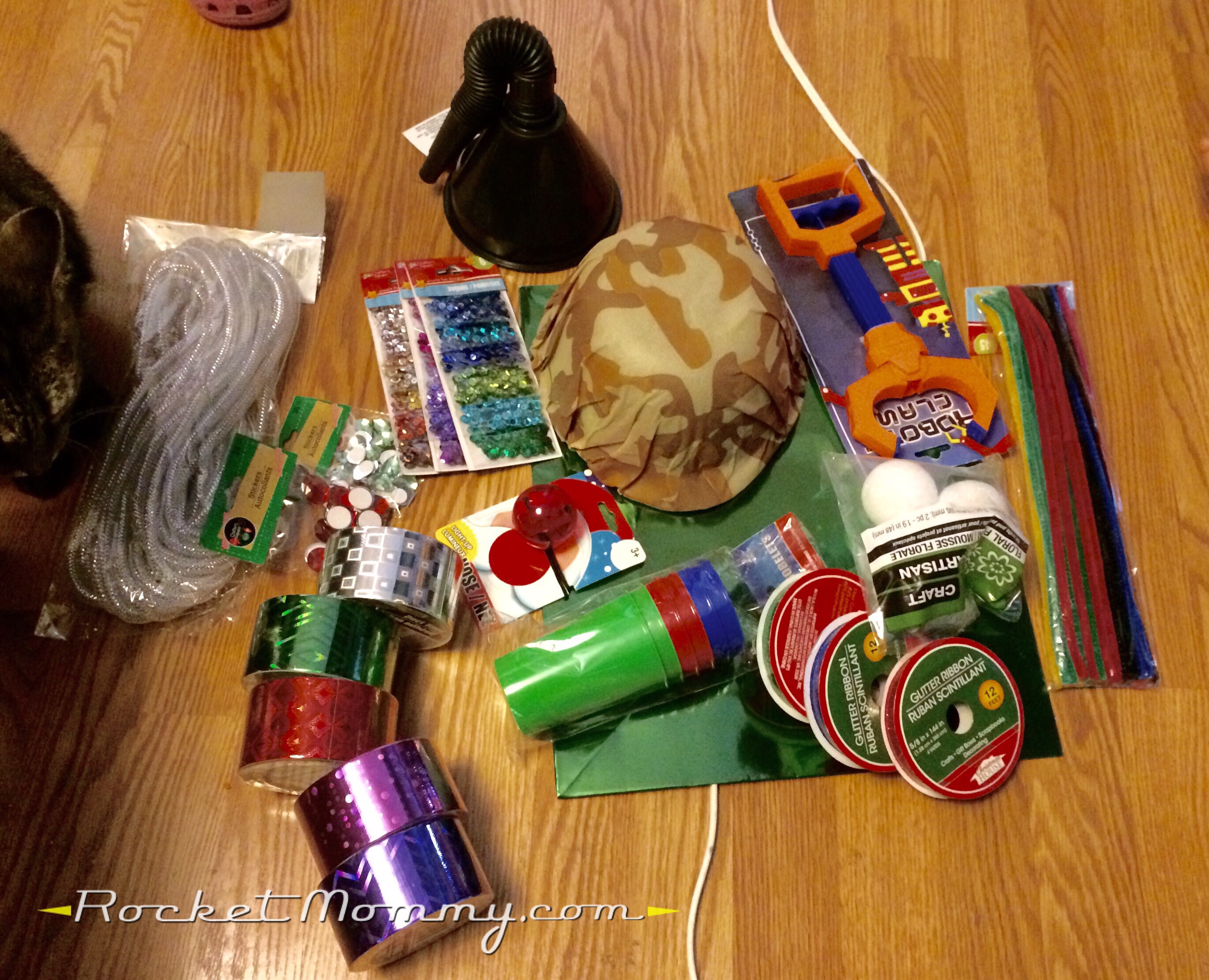 Now, why was I telling you all about PJ Masks? Because when we got to Dollar Tree and G saw this big shiny green gift bag hanging on the wall, he had the brilliant idea that we should make PJ MASKS ROBOT COSTUMES. So they'll be PJ Masks, but also robots! And I was like, YES, you brilliant little boy, I would LOVE to kill two birds with one stone here! PJ Masks Robots it is! So we grabbed a red and a blue gift bag along with the green. They only had the smaller size in the red and blue, so it was a bit of a risk, but they worked!
I have no pictures of the process of making these costumes, as I was fending off three very excited preschoolers while also trying to safely wield a glue gun and apply duct tape to things without making a huge mess. I followed the basic instructions in the blog post I linked above – I cut a head hole in the bottom of the gift bag and two arm holes on the sides – and they started to rip immediately once I tried them on the kids, so I used the lovely holographic duct tape to reinforce all of the edges so they wouldn't tear as easily. I bought those army helmet things to use as hats, ripped the covering off of them, covered them in duct tape, and glued some stuff to the top of each one.
Once the bodies were reinforced, I let the kids decide where they wanted to put their buttons. G used a bunch of green gems with stickers on the back, and since he was able to peel the sticker backs off himself, he went a little crazy with them. The twins don't have the dexterity to peel those little stickers off, so I did it for them, and after some frustration where they tried to figure out how to put the sticky side down, I eventually just let them point to where they wanted the button and I stuck it down for them. Little g was very meticulous about his button placement and even had me hot glue some sequins on there for him too.
And of course, once they got those costumes on, there was no way I was going to get them to stand still for a picture (sigh).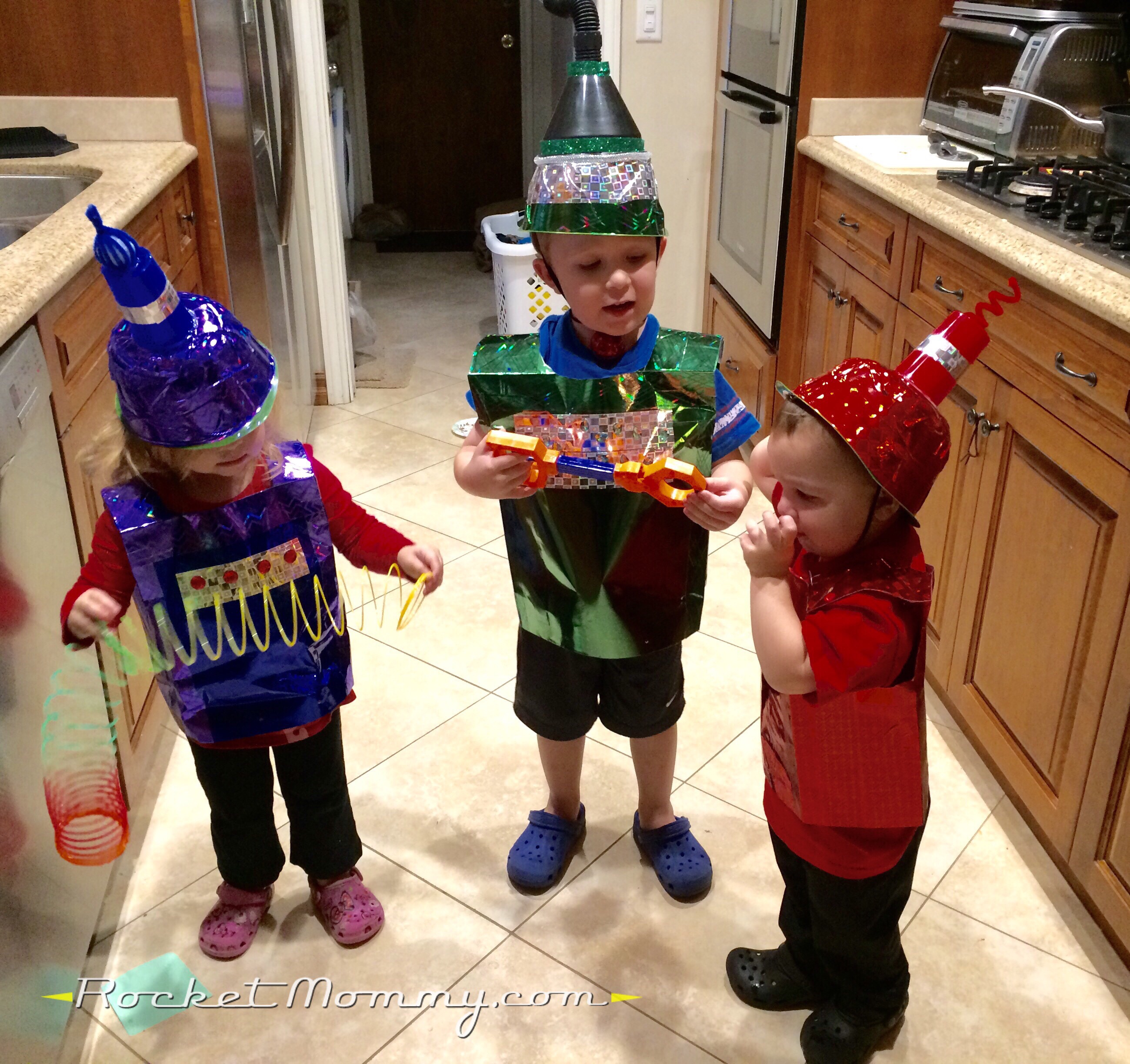 There we go! PJ Masks robots!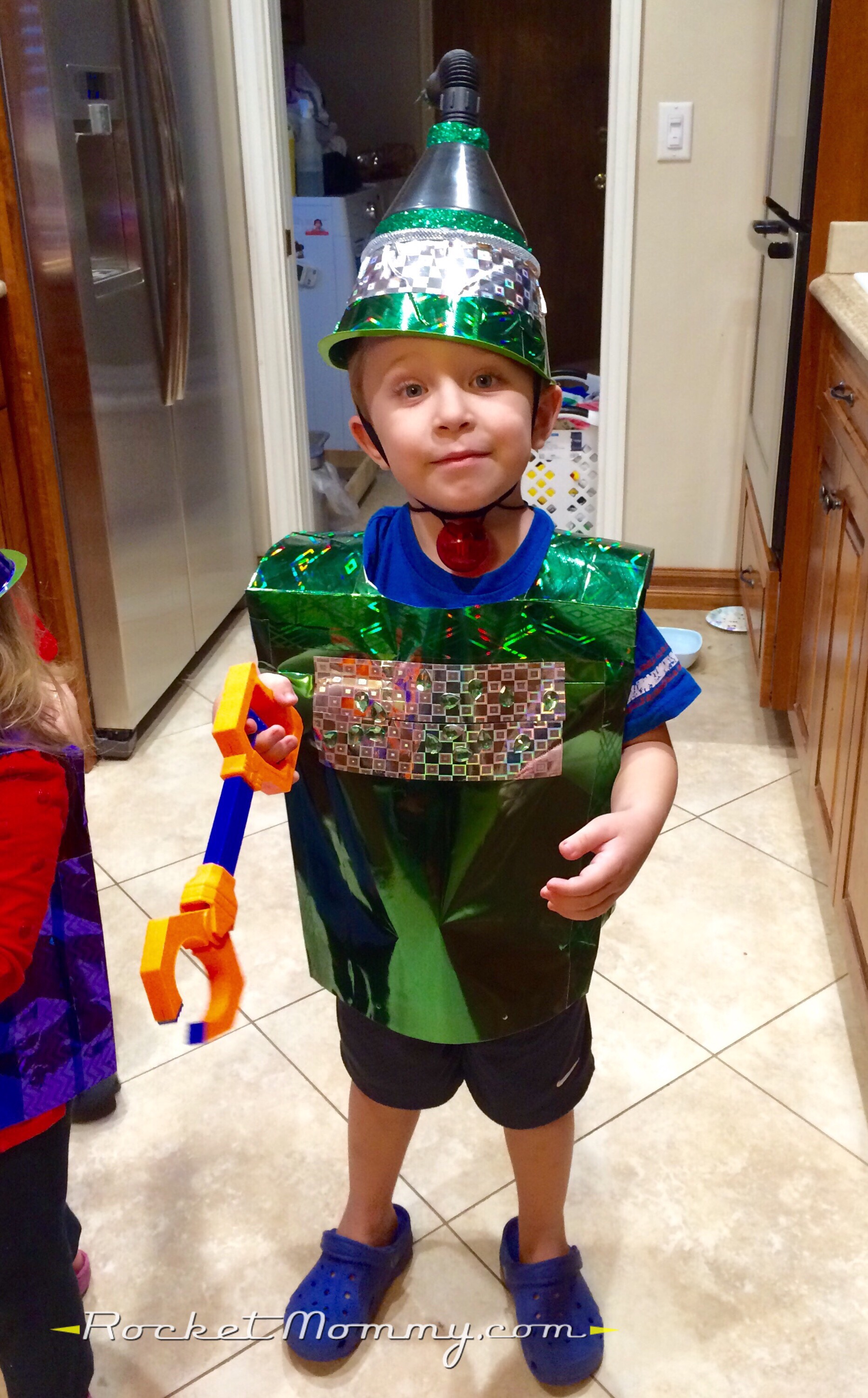 G picked up that "robotic claw" in the toy aisle and thought it was just the best darn thing ever. Also, that ball around his neck? That's a light-up reindeer nose. The elastic on it is waaaaaaay too tight to wear as a nose, so we just put it on as a necklace.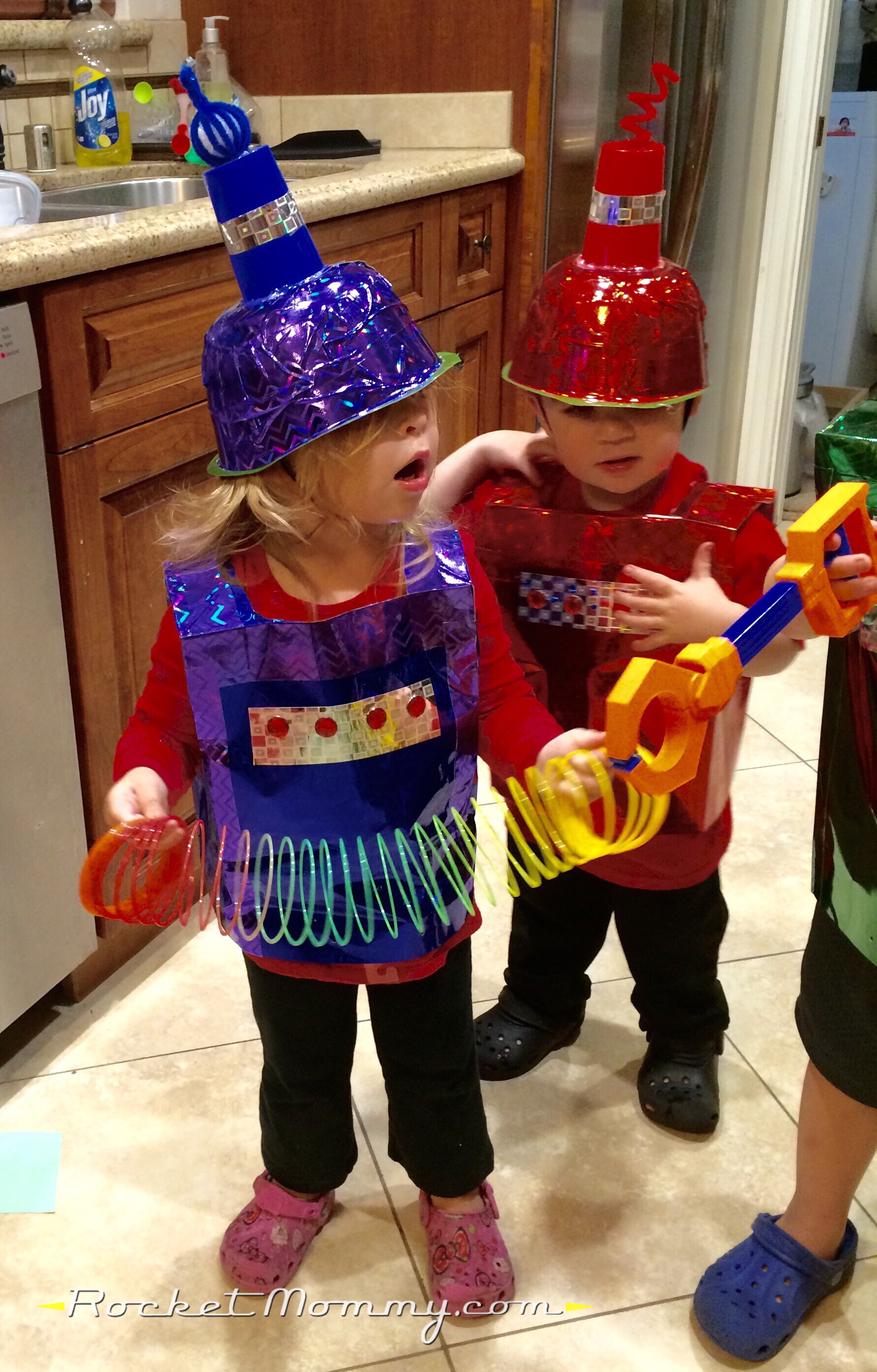 They didn't have any blue holographic duct tape, so C's Robot Catboy costume is kind of a blue/purple hybrid.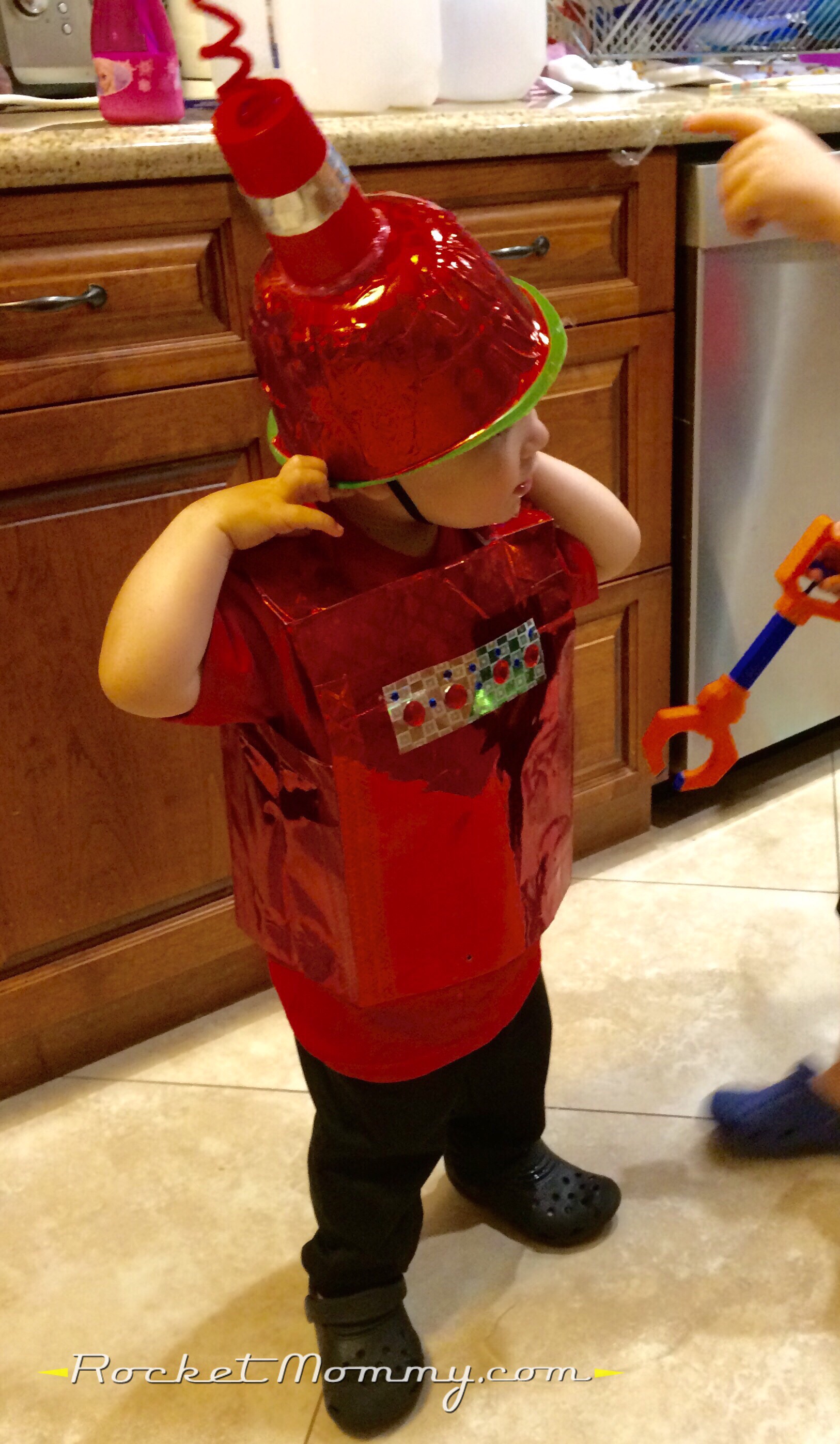 Yes, g's shoes are on the wrong feet. I'm learning to pick my battles very carefully with this child.
It was a hugely fun (and not very messy!) craft for a lazy afternoon at home.