Every year, ever since the first Easter that Rocket Daddy and I spent together back in 2004, I've blown out an egg and painted it for him for his Easter basket.  I take it as an opportunity to look back at the year and highlight something that was important to him, something that is sort of symbolic of that year.  I don't know why I started this or how I got the idea, but he thought it was sweet and I liked doing it, so I kept it up.  Once we had the kids, I naturally had to start painting eggs for them, too, so now I'm on the hook for four eggs a year.  Somehow I didn't think of that when I started this 11 years ago!
I'll warn you straightaway – this post is just a show-offy display of a very long-term project and probably won't help you execute something like this on your own.  I wish I could do a useful tutorial on how I make these every year, but in keeping with the yearly tradition, I need to procrastinate on making them until the very last minute, then stay up all night scrambling to finish them so they can make it into the Easter baskets, and let's be real, step-by-step pictures just won't happen at that point. So instead, just enjoy this never-before-seen look at our collection!  We've somehow misplaced two of them and broken two over the years because we suck at taking care of fragile and sentimental things (when I went to gather the eggs up to photograph them for this post, they were hanging out in three different places – a cardboard box in a closet, and a little box and toy wagon on a bookshelf), but this is most of it. My next project: find a way to actually display these darn things in our home!
2004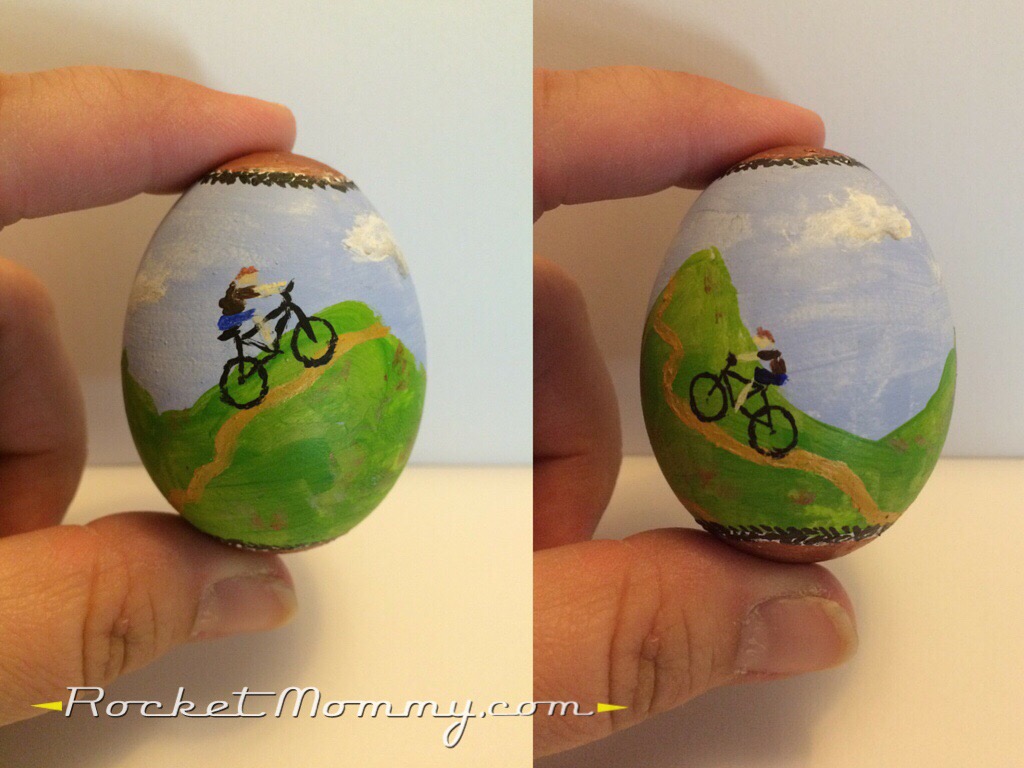 The egg that started it all!  When I met Rocket Daddy, he was really into mountain biking.  He re-taught me how to ride a bike that year, and we used to ride trails together (or, rather, he rode them and I huffed and puffed and lagged behind forever).
2005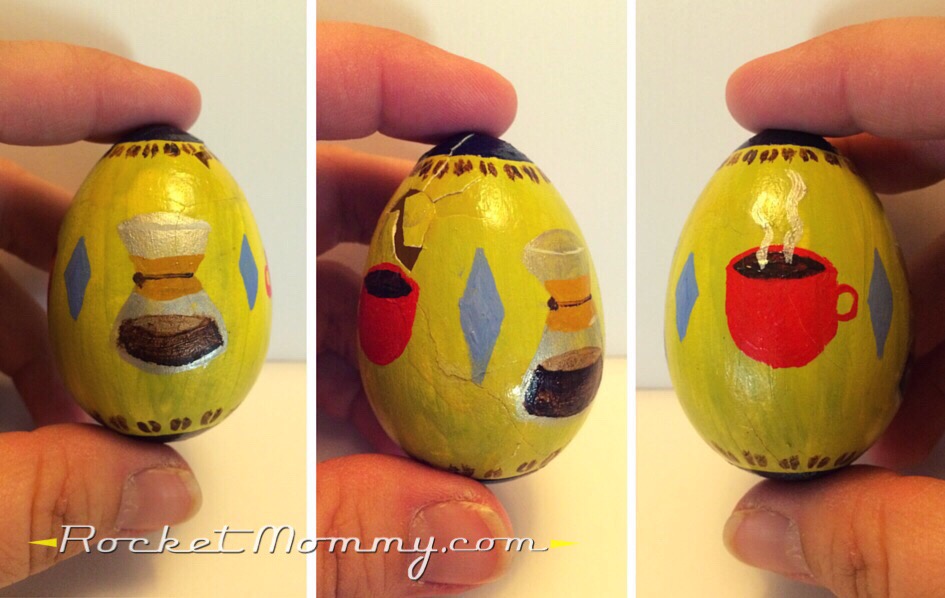 The coffee egg.  This was the year that he got really into coffee. He bought a Chemex Brewer (featured prominently here) and started sourcing out all kinds of fancy, fresh-roasted beans. This is one of two eggs that has broken into a million pieces and needed to be glued back together, sadly.
2006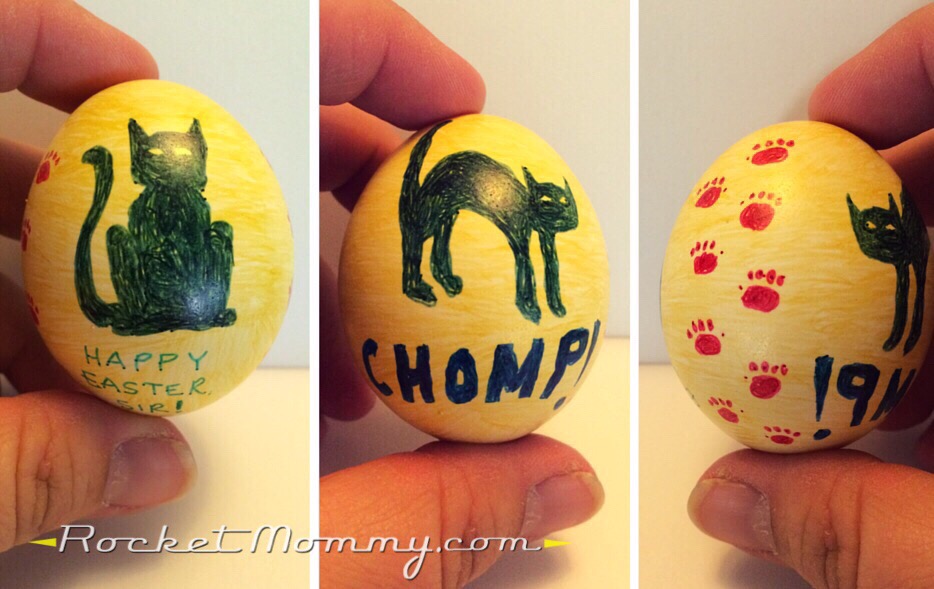 The Kona egg.  We rescued Kona in 2005, just a little bit after Easter, so she was a big deal around our little apartment all that year. She was a tiny kitten who grew into an ill-tempered cat who loves to bite and vomit. Also of note: this was one of two years that I couldn't find my tiny paintbrushes, so I did it with Sharpies.
2007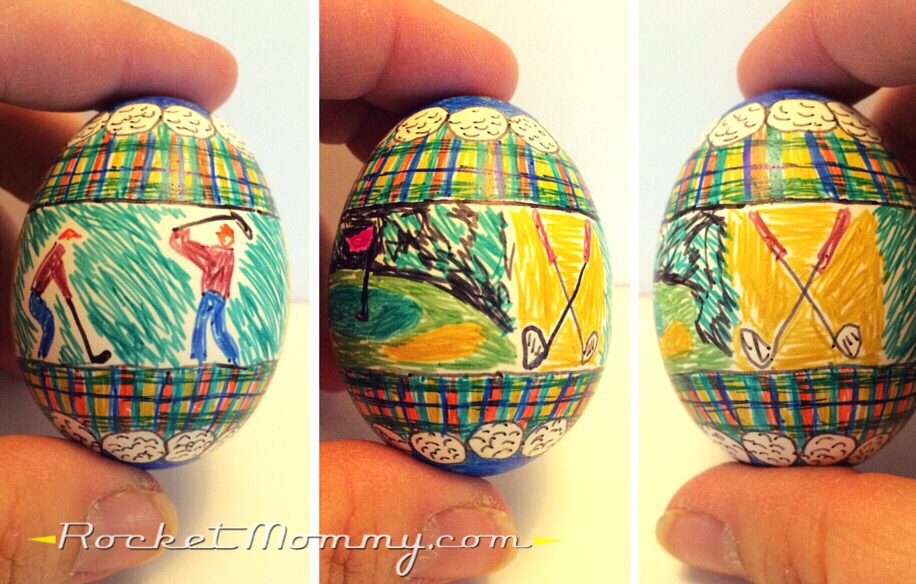 The golf egg.  Rocket Daddy decided to take up golf this year.  Also, egg #2 that was done with Sharpie.  You'd think in two years I could have gone and picked up a pack of detail brushes, but alas, when you put this whole thing off until the night before every year, that's what happens.
2008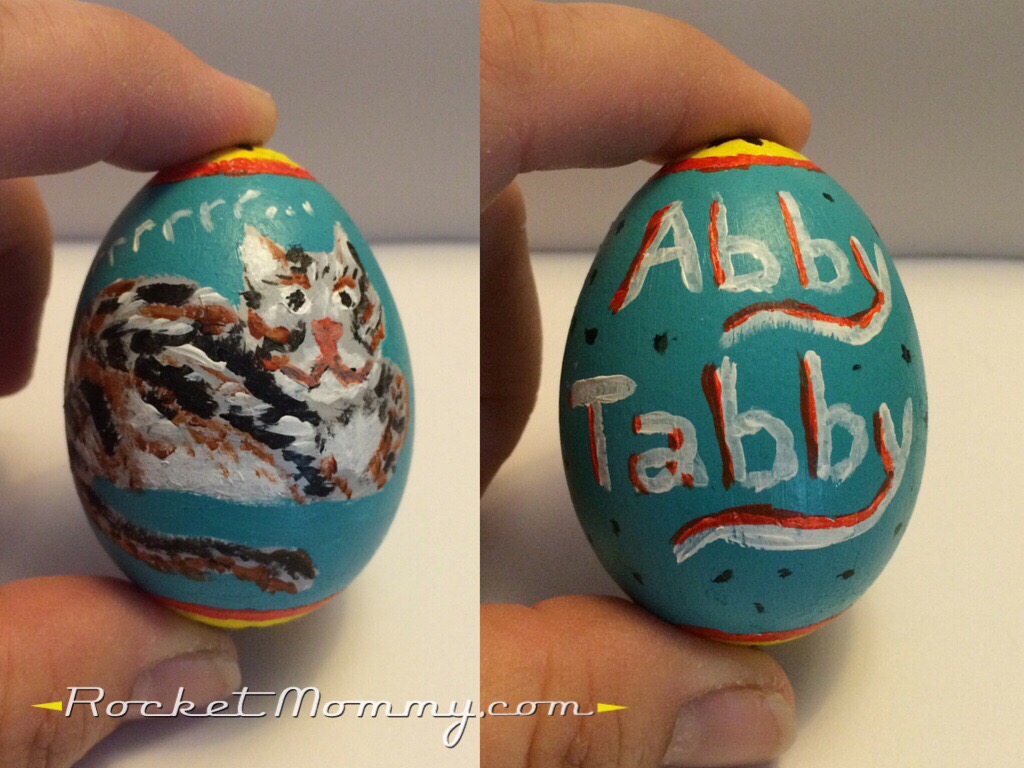 The Abby egg.  Around Christmastime in 2007, we rescued Abby, a gentle and sweet tabby cat with the loudest purr we'd ever heard. We also got engaged in late 2007, but Abby won out for the egg design. She's still a sweet cat, and she taught Kona how to be kinder to the people in her home. Kona, in turn, taught her how to vomit on anything that's valuable or difficult to clean. Yay cats.
2009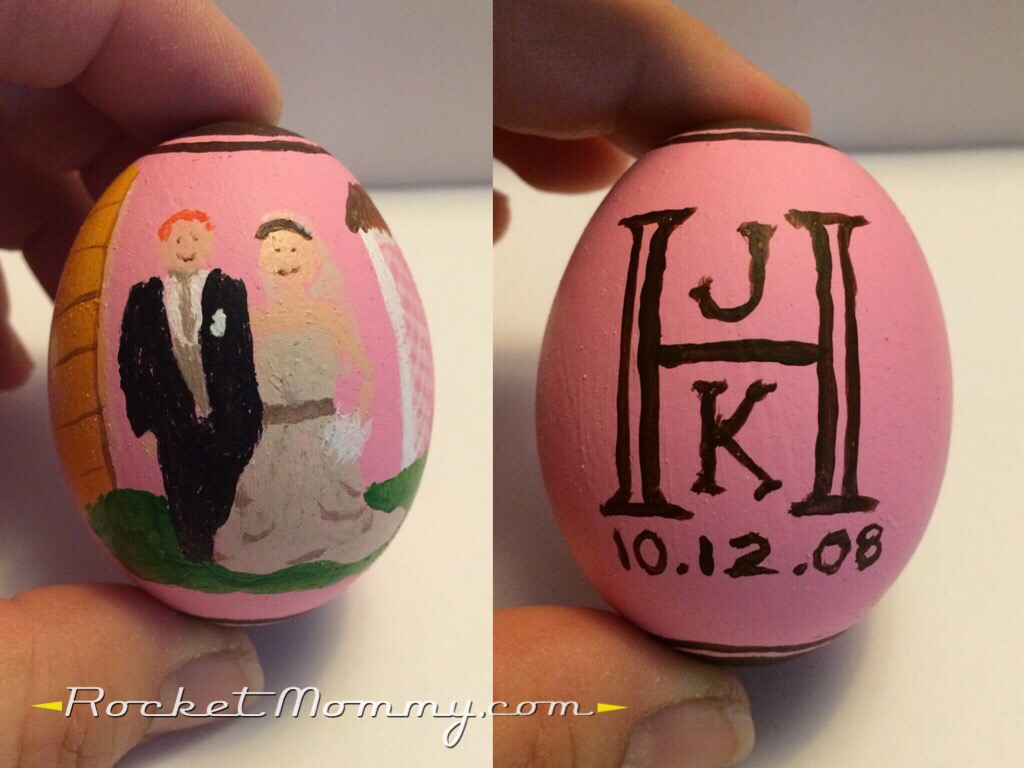 The wedding egg.  Remember how we got engaged in 2007? Well, we got married in 2008, and our wedding was a DIY masterpiece fueled by tons of inspiration from The Knot. Hence that wedding monogram that graces one side of the egg – it appeared prominently on pretty much everything that came within ten feet of our wedding.
2010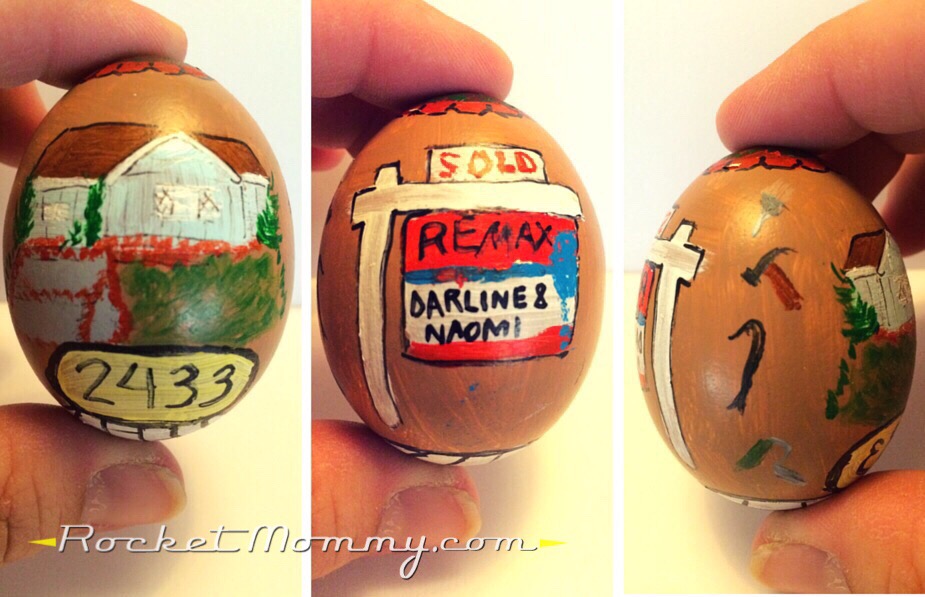 The house egg.  In the fall of 2009 we bought a house.  It was a ranch home from 1963 with a decent floorplan and relatively large bedrooms, and that was pretty much all it had going for it. We closed escrow and tore the kitchen out that evening. There were asbestos-laden popcorn ceilings that needed scraping, a hall bathroom that had to be taken almost down to the studs, forest green carpet everywhere, overgrown landscaping… you get the idea.
2011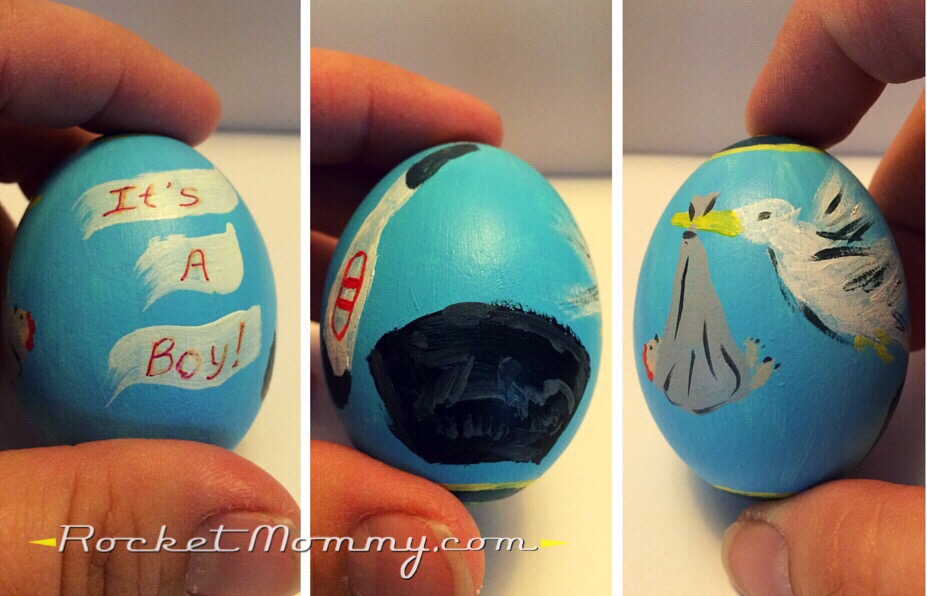 The baby egg!  I was pregnant with G over Easter of 2011, so that certainly was the highlight of the year. I'm particularly proud of the ultrasound picture I painted on this one. This was the last year that I got to paint just one egg.
2012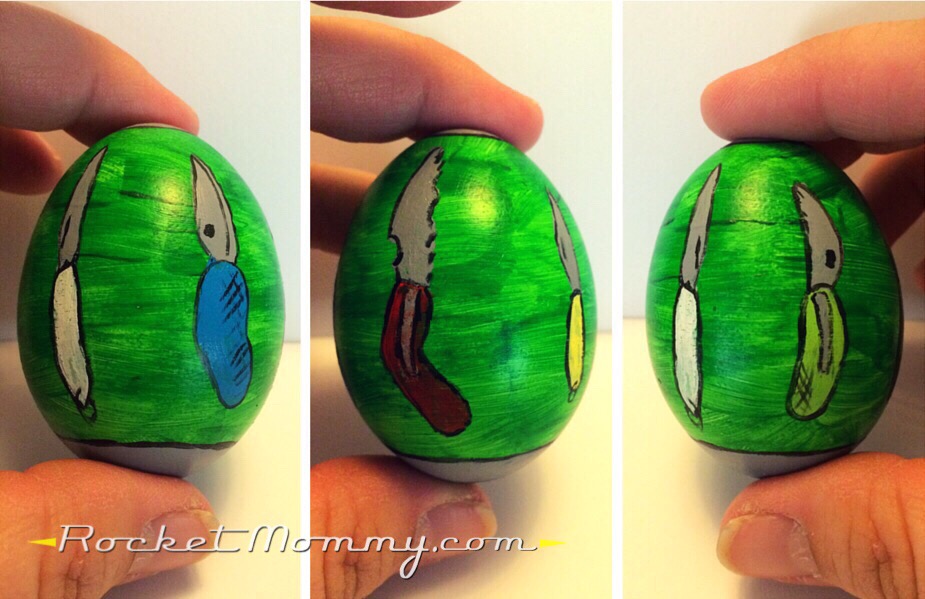 The pocketknife egg.  Somehow over that first year with Baby G, Rocket Daddy became a wee bit obsessed with pocketknives.  He amassed a decent sized collection of them, and for Father's Day I even found a little "build it yourself wooden pocketknife" kit for him to put together for G.
Giant bummer: I have searched the house to the best of my ability, and I can't find G's first Easter egg!  If it ever turns up, I swear I will add it in here immediately. In case it doesn't, you should know it was ADORABLE.  I painted tiny versions of all of his favorite toys – I know his activity table was on there, and Sophie the Giraffe, and I wish I could remember what else.  Also, why on earth did I not take pictures of these eggs the moment I finished painting them?!  Clearly I'm ridiculous.
2013
I'm also missing Rocket Daddy's 2013 egg.  I imagine it's kicking around somewhere with G's egg, probably laughing at me as I empty every junk drawer and cabinet and paw through every box of crap looking for it.
But!  Here's G's!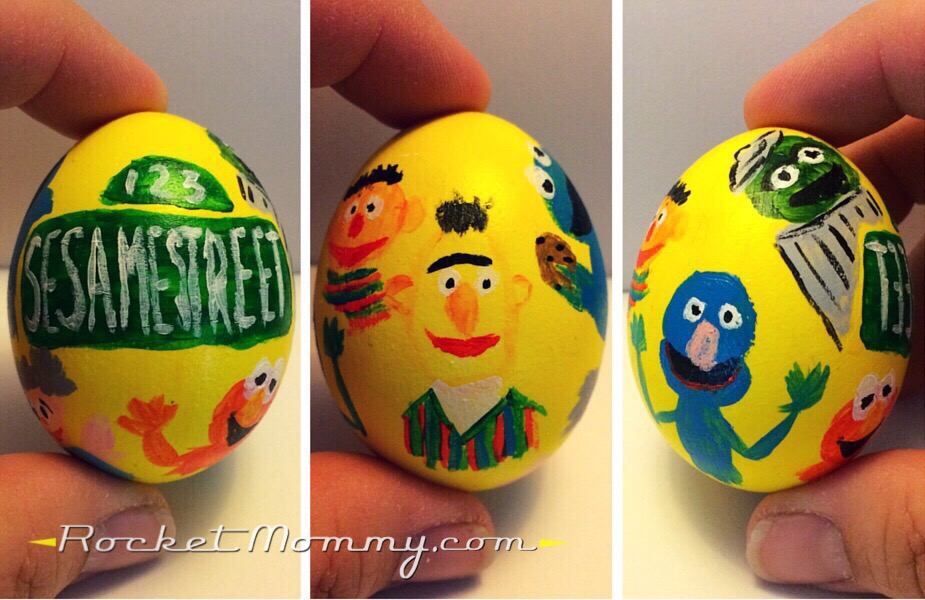 G watched a LOT of Sesame Street that year while his enormously pregnant mother slept on the couch and "supervised." We also had a handful of much-beloved books featuring the Sesame Street characters, and he loved my Elmo and Cookie Monster voices.
2014
Ah, 2014 – the year where I went from painting two eggs frantically in one night to FOUR.  Let's start with daddy's.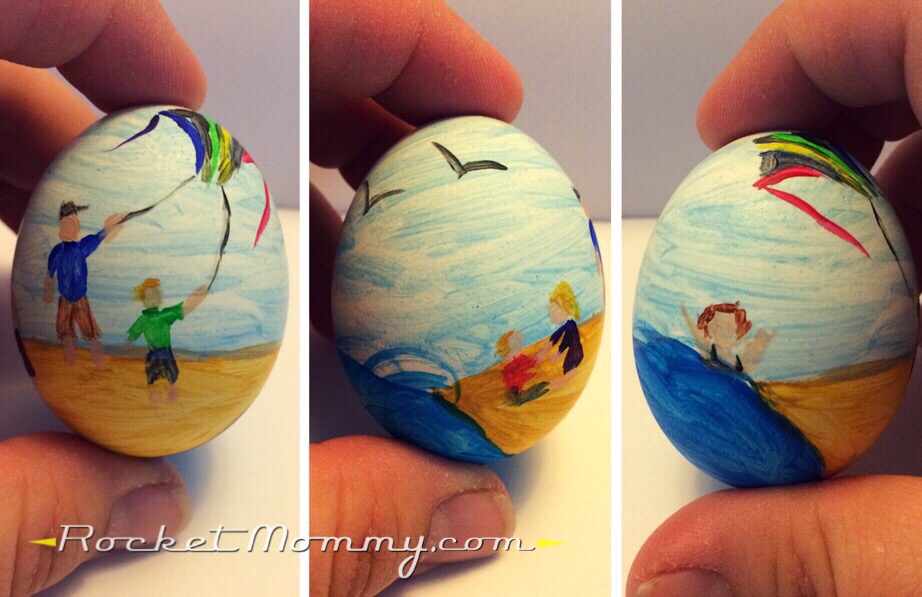 The kite egg.  Rocket Daddy has always had a thing for kites, and he was super excited to buy a kite that he and G could fly together on the beach.  In this lovely depiction, the twins are able to sit up and play in the sand, and I'm either out swimming in the ocean or blissfully trying to drown myself.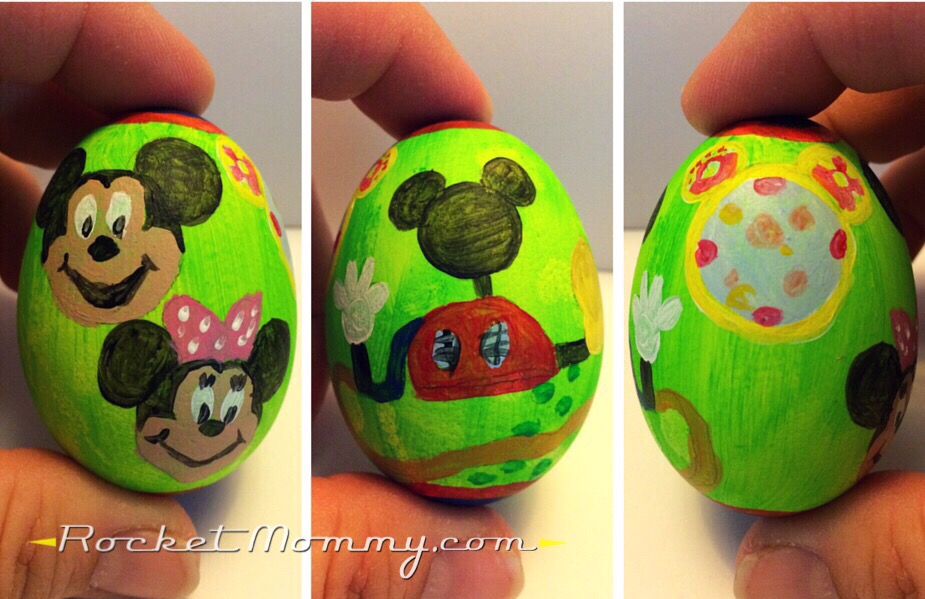 G's Mickey Mouse Clubhouse egg.  G was obsessed with Mickey and the Clubhouse gang that year, and we even used Toodles to help potty train him. Ask me about that some other time.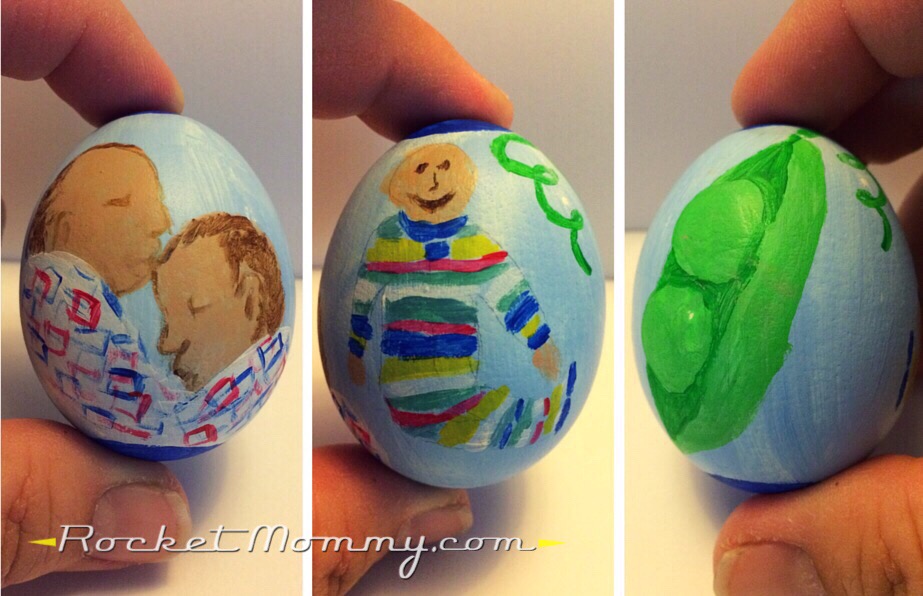 Little g's first egg! The twins got similar eggs, each featuring a crudely-painted rendition of one of my favorite photographs of them, plus them in my favorite striped pajamas, and two peas in a pod.
And this one was C's. Photograph (this one turned out a little better), stripey pajamas, and peas. I still love those stripey pajamas so much.  I bought every size from 0-3m through 3T!
2015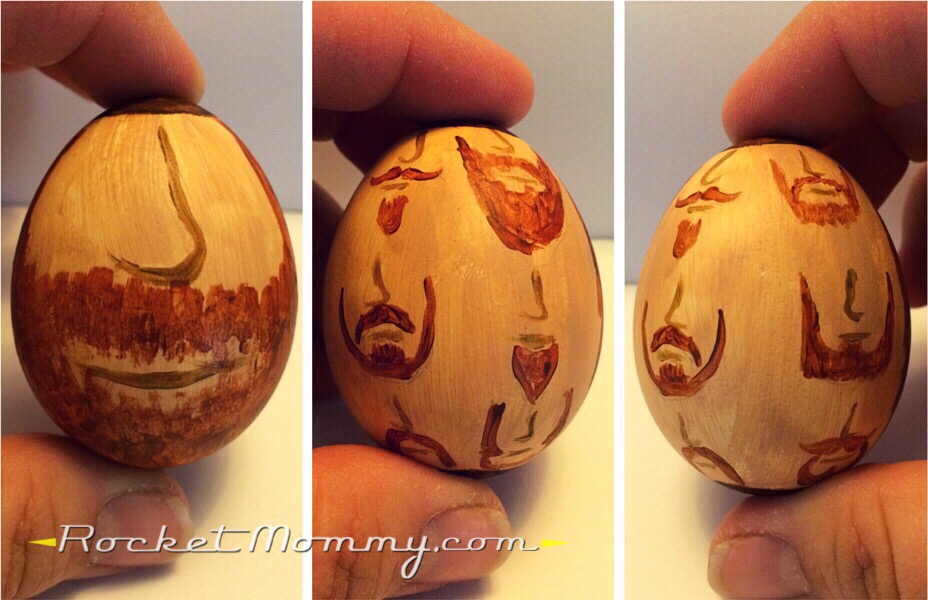 The beard egg.  This is what happens when twin+1 parents stop acquiring new hobbies and don't get to go anywhere fun or do anything exciting. Rocket Daddy grew a beard and, as is the case with most things, did plenty of research on the topic of beards and facial hair.  Don't worry, folks, I have better material for this year all ready to go.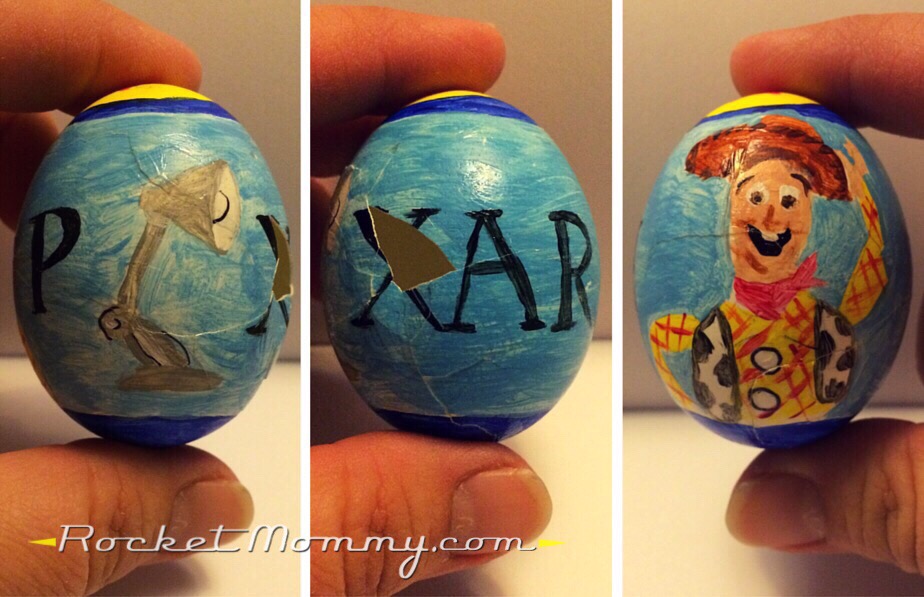 G's Pixar/Toy Story egg.  I was so bummed to see that this one broke!  (and yes, I know I should consider using plaster eggs instead of real eggshells, but where's the fun in that?!)  G went through a HUGE phase where he was fascinated by Luxo, the Pixar lamp, and I added Woody to it because Toy Story was big for us that year too.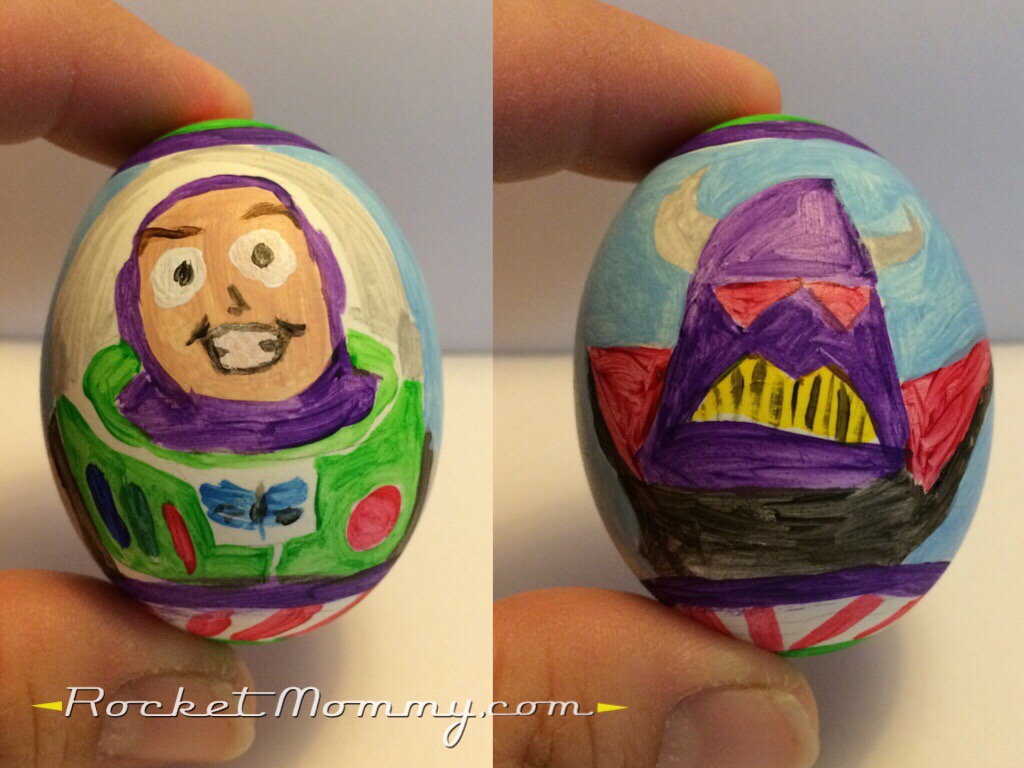 Little g's Buzz Lightyear/Zurg egg.  He's still obsessed with both Buzz and Zurg!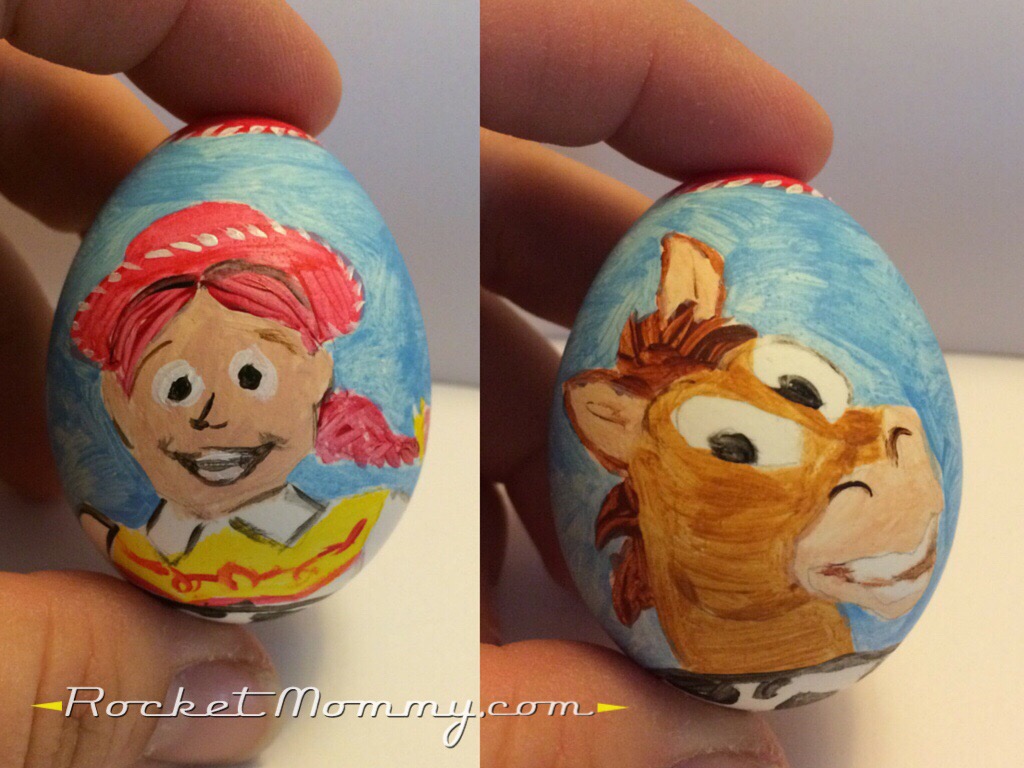 C's Jessie/Bullseye egg, to finish off the Toy Story collection from last year.
So that's our little family tradition, all the way from the beginning!  If you made it all the way to the end of this post, you deserve some kind of award.  I'd paint you an Easter egg, but having to do five this year might just send me over the edge, haha.